When you're self-publishing a book, there are lots of exciting design choices to make, from selecting a book format, size, and paper type to creating unique page layouts. The type of book cover you choose—softcover or hardcover—also plays a big part in the overall look and feel of your publication. Just think about some of your favorite books (better yet, grab one off the shelf!), and consider how the size, shape, texture, and weight of each one contributes to the book's personality.
Chances are, your choice of book cover will be based on more than one thing: personal style and aesthetic, durability, cost, page length, the book's purpose and audience, and the kind of reading experience you hope to create. Let's take a closer look at the three different types of book covers available at Blurb so you can find the right fit for your project.
Softcover
The basics
Our softcover books feature a flexible, high-gloss laminated cover and durable library binding. You can print on the front, back, and spine of the book. You know those paperbacks you love to read (and reread) and carry around in your bag because they're easy to handle? Yep, classic softcover books.
The benefits
It's a popular, versatile, and economical way to print photo books and trade books. If you're printing a trade book, the softcover option gives you the lowest cost per copy. Softcover books are also lightweight, accessible, and portable, making them perfect for the everyday commuter, long-distance traveler, and bedtime reader. Many authors and publishers choose softcover designs for novels, poetry, memoirs, short stories or essays, travel guides, comics, graphic novels, literary journals, how-to guides, and art and business catalogs. The list goes on!
The limitations
The softcover design is fairly simple—no cover flaps or end sheets*. (If you're making a magazine, you can print on the inside front and back covers, as well as on the outside front and back covers.) Softcover is also not available for Blurb's large-format photo books or layflat books. No surprise here: With heavy use, softcover books are more susceptible to visible wear and tear than hardcover.
Hardcover with ImageWrap
The basics
Our ImageWrap hardcover books feature a durable matte finish and library binding, as well as end sheets*. Your cover image will be printed directly on the front and back cover and spine. You also get a choice of end sheet colors, depending on your book format (two color options for trade books, five color options for perfect-bound photo books).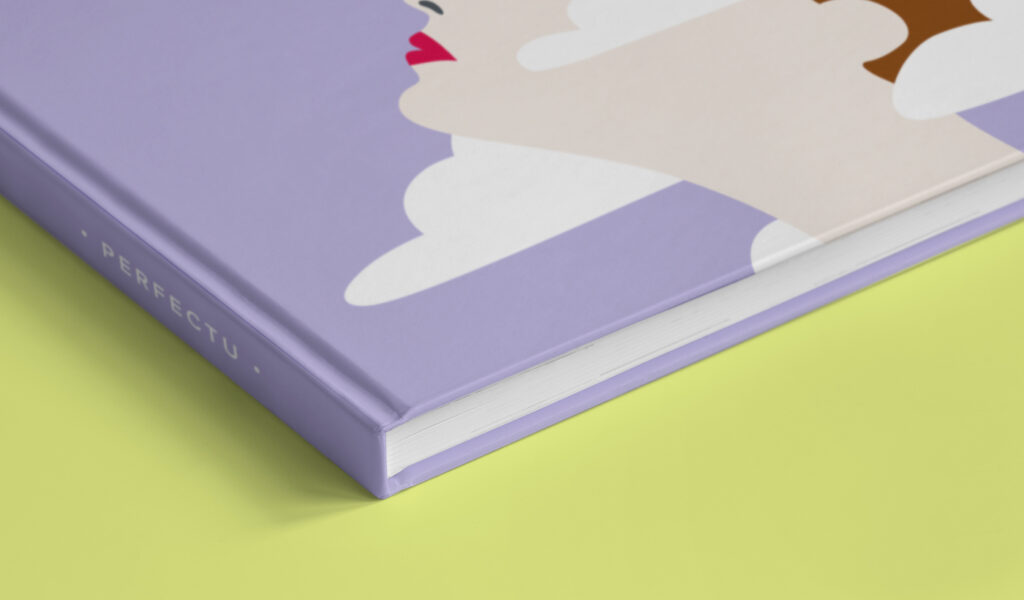 The benefits
It's a sturdy, stand-alone book design that looks great on display and stands up to heavy use. For the higher printing cost, you get lasting durability (think: children's books, cookbooks) and more of a high-end feel (perfect for keepsake albums or photography, art, and design books).
The limitations
What you see is what you get—as in, no cover flaps. If you're making a layflat photo book, ImageWrap is the only cover type available. Hardcover books are heftier and can be a bit trickier to transport (unless they're slim). But being heavy is ok for books that tend to stay at home (reference guides, cookbooks, yearbooks, coffee table books).
*What are end sheets? How can they be used?
End sheets are the pieces of paper glued to the inside of your hardcover book, lining the front and back cover. Text and designs cannot be printed here. If you plan to order more than 100 copies of your book, we offer custom book options which may include printing on the inside of your cover.
Hardcover with dust jacket
The basics
This type of book cover features a full-color, glossy dust jacket with flaps that wrap around your linen hardcover book (slate-grey linen for trade books and a choice of black, oatmeal, or charcoal linen for photo books.) Images and text can be printed on the front, back, and spine of the dust jacket. As with ImageWrap hardcovers, you get a choice of end sheet* colors (two color options for trade books, five color options for perfect-bound photo books).
The benefits
If you're going for a luxurious look and feel, dust jacket flaps over classic linen book covers adds instant prestige. Some authors choose this traditional design for novels, essays, or cookbooks, while others may reserve it for high-profile art and photography books, keepsake projects, or limited editions. Publishing houses often release first-edition fiction, nonfiction, and some poetry books in hardcover with dust jackets (followed by a softcover edition six months to a year later).
The limitations
There is no option to emboss or print on the linen book covers underneath the dust jacket, but your local bindery or print shop might be able to do this for you. The hardcover weight combined with a removable dust jacket can make this design more suited to books that are not subject to constant, rugged use (a dust jacket on a kid's book is bound to go its separate way).
Then again, books are made to be loved, handled, shared, and treasured, so there are no set rules about which type of book cover to use for any genre or style of project. That's for you to decide. To each book, its own unique and beautiful cover!
For more inspiration, check out these tips for creating a standout book cover. Ready to explore size and paper options? Start your book project today!