When you set out to make a book, you'll use many tools—from cameras and keyboards to notebooks and sheer creativity. But, when it's time to make the book out of your collective efforts and output, a new tool becomes essential: book design software. It'll help you get your pages polished, organized, and ready to send off for printing.
Today there are so many tool options catering to different needs, projects, and budgets. We'll be focusing on book design software for Windows and macOS. While many authors and artists use tablets for composition and content creation, when it comes time to collect it all for output to print, you'll want to fire up that laptop or desktop to take advantage of the best book design software options.
We'll highlight some of the most popular self-publishing book layout software here, broken out into two general categories to help you narrow things down immediately.

Before we begin, there are three questions you should ask yourself.
Questions to start
What kind of book are you making?
Graphic- or photo-intensive book projects typically require (or at least benefit from) more complex software with robust design features. These can have a steep learning curve but ultimately offer the image handling and layout flexibility needed to produce a polished photo book with professional-looking images.
Novels and other word-centric publications call for bookmaking software that can format and organize page upon page of text in a way that helps make sense of it all. Of course, you may do your writing using more composition-focused word processing software like Microsoft Word. Still, when it's time to turn it into a book, book design programs are far more effective for better page layout, formatting, and other bookmaking ins and outs.
What's your price range?
Some software choices are a more considerable investment than others—they range from free, to monthly subscription fees, to spendy lifetime licenses. Many options here offer a discount to educators or students, and some offer a free trial period or a limited-feature demo version so you can explore the program's interface and nuances without spending a dime. So, unless you've got a solid reason to go with a particular piece of software (compatibility with existing projects, for instance), you may want to kick the tires on a few before you commit.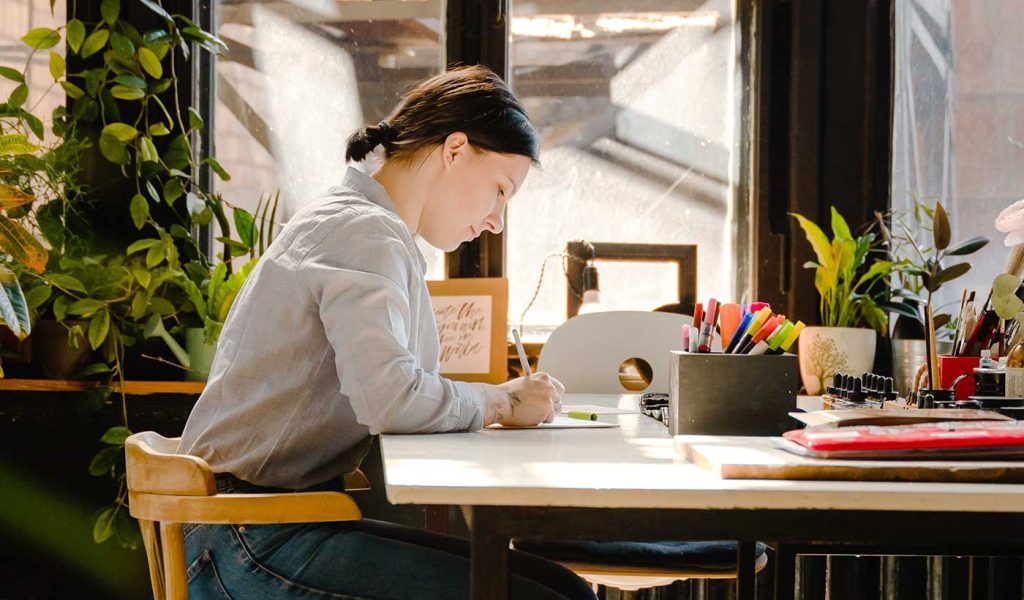 How much time do you want to spend learning?
What's not so free is the time it takes to learn a new program. We'll call out a few that are especially easy to use immediately; the rest offer tutorials or help documentation. But the bookmaking and design communities online can be the best resource for anyone looking to get up to speed. User-made guides and helpful step-by-step videos abound, providing as much or as little hand-holding as you need. So don't be intimidated—but also be realistic about the number of features you need (and are willing to study up on).
Best book design software for photographers, illustrators, and artists
QuarkXPress
Best for: Advanced typography and graphic design
Platforms: Windows, macOS
Price: $259 per year; $699 lifetime license
This is the OG of desktop publishing software, and it's WYSIWIG (What You See Is What You Get) interface revolutionized and dominated the world of digital print layout for years. QuarkXPress remains a solid, feature-rich option that's especially adept in typography and design. There's a reason many large publishers have continued to use this software for high-volume professional print projects. It's more than capable of handling smaller jobs, too, but self-publishers may find the cost of entry and the challenging interface less than ideal.
Adobe InDesign
Best for: Print design and layout
Platforms: Windows, macOS, Linux, Android, iOS, web
Price: $20.99 per month
The first major competitor to QuarkXPress, Adobe's alternative quickly established itself as an industry standard. It's got a similar set of features, with some extra design functions that can come in handy for advanced users—but all those features can make InDesign tricky to pick up and use right away.
One of InDesign's biggest advantages is its support for almost all the most common (and uncommon) publishing and e-book formats. It includes the XML and coding options needed to export the content for a wide range of digital and online applications and the ability to e-publish directly to Adobe-hosted servers. InDesign also integrates and syncs with Adobe's other Creative Cloud software—including Photoshop—allowing you to work on every part of a project from anywhere, on a number of different devices. And, perhaps best of all, with the Blurb Adobe InDesign plug-in, you can upload your PDF for printing from within InDesign itself.
Affinity Publisher
Best for: Desktop publishing on a budget
Platforms: Windows, macOS
Price: $50
Affinity has really caught on as a much cheaper alternative to QuarkXPress and InDesign. This one-time purchase offers most essential bookmaking features in a simpler package, making it more accessible from a learning standpoint. Its Studio Link feature also allows in-app integration of Affinity Photo and Affinity Designer—feature-rich yet more-affordable alternatives to Adobe's Creative Suite programs. This makes for a well-synced integrated workflow that many users find convenient. So, if you're just starting or are looking to adopt a new software ecosystem for your bookmaking, the Affinity route is pretty compelling.
Adobe Photoshop
Best for: Creating graphics, illustrations, and editing photos while designing
Platforms: Windows, macOS, iPadOS
Price: $20.99 per month
Whether you're editing and resizing photos or creating graphics from scratch, the venerable Photoshop can do it all, and it's still the industry standard after years at the forefront. Although Photoshop is not technically a book design software, if you're planning on including any imagery (including on the cover), you'll probably want to use a dedicated graphics editor to get it looking its best. Its only downside is the time needed to learn all its features. If that's too much work, there are many popular, competent, and usually more affordable (or free) Photoshop alternatives.
Canva
Best for: Sharing and collaboration for bookmakers without much graphic design experience
Platforms: Windows, macOS, Android, iOS, web
Price: Free with a subscription for added features
Another tool not explicitly built for book design, Canva, is an online graphic design editor with collaboration at its core. Free plans, hundreds of thousands of templates, and free graphics allow bookmakers and their creative networks to jump in and work together on images, graphics, and page layouts. Although it lacks the robust page management you need to plan a book properly, it's a great way to collaborate with others on individual pages and designs to incorporate into your larger book projects.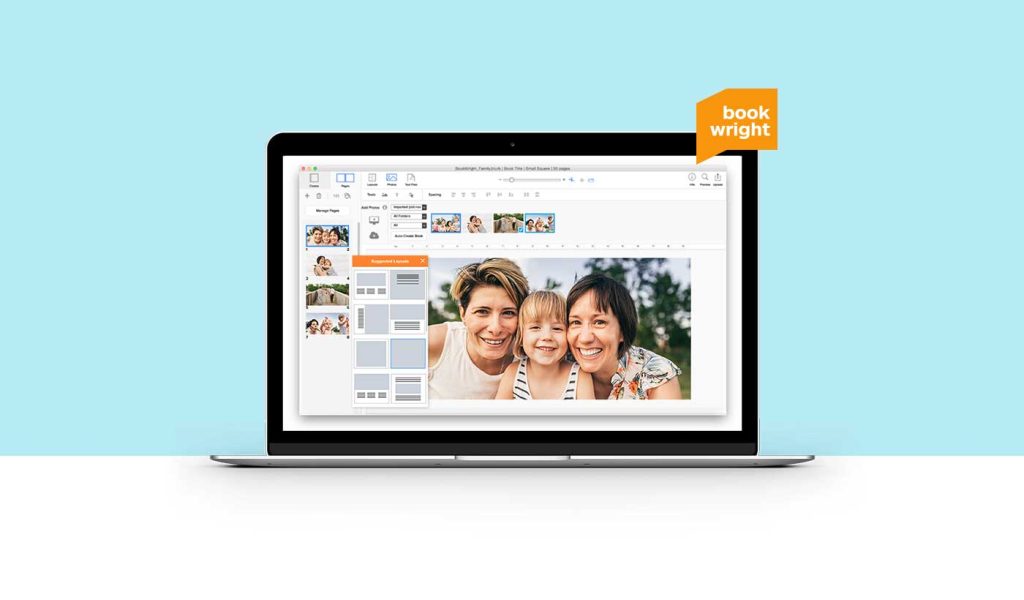 BookWright
Best for: beginners, thanks to templates
Platforms: Windows, macOS
Price: Free
If you're planning on self-publishing a book with Blurb, you'll want to check out Blurb's BookWright software. This free download provides all the templates and simple design tools needed to get a photo-intensive book project in order. Because it takes into account all of the different formats, papers types, trim sizes, and bindings Blurb offers, you'll be designing every page (plus the cover, dust jacket, and more) to the exact dimensions and print areas you'll use when it's time to publish your book.
BookWright offers built-in image scaling, cropping, and single-click image enhancement for beginners, and its photo Manager Module offers Adobe Lightroom integration for more advanced photo manipulation. Even if you use different book design software for your project, giving BookWright a try can be a great way to preview that awesome final step of any bookmaking journey: gathering it all up for printing.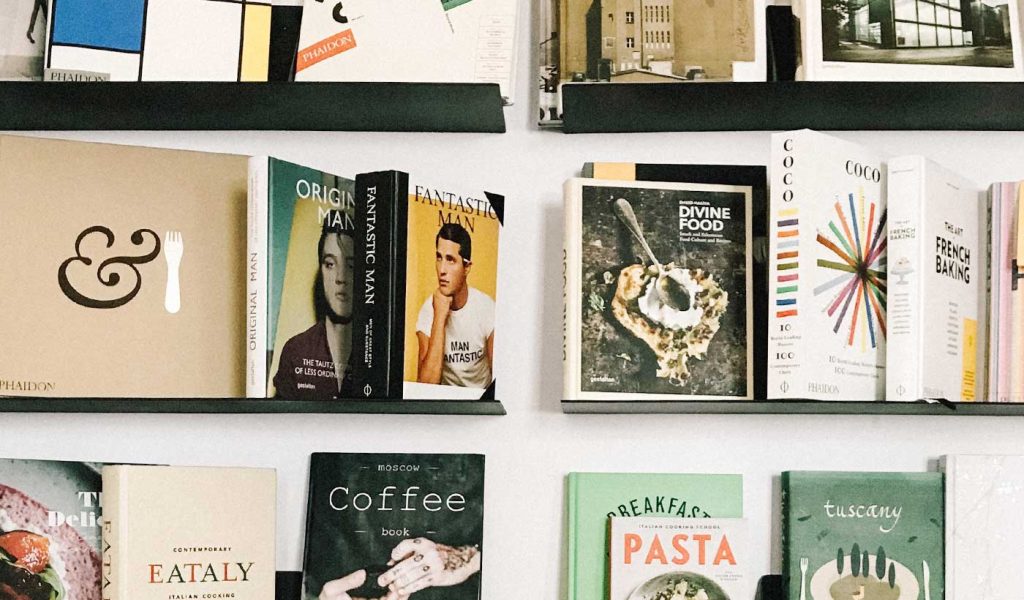 Best book design software for writers
Adobe FrameMaker
Best for: Long documents, technical writing, and books with complex layouts
Platform: Windows
Price: $29.99 per month
Just as Adobe InDesign offers every feature even the most complex book could need, FrameMaker is loaded with everything an author—or an entire organization—could need to create and manage massive, deeply technical volumes. (As long as they're running Windows.) It's got all the functions of a powerful word processor, with smart tools for navigation, footnotes, tables of contents, and tons of other functions to help handle books and digital publications with high word counts.
Scrivener
Best for: Organizing large writing projects
Platform: Windows, macOS, iOS
Price: $49 (macOS), $45 (Windows), $19.99 (iOS)
Scrivener takes a by-writers-for-writers approach that makes it seriously useful for handling all of the inputs that go into a big book project. In addition to being a solid word processor, Scrivener allows you to collect and interact with your notes, background materials, and references in one easy-to-navigate space that serves as a virtual corkboard. As a result, it's an excellent environment for an author to go from concept to outline to the final manuscript—and export it all for publishing, all within one app.
Vellum
Best for: ebook design
Platform: macOS
Price: $249 (print and ebook), $199 (ebook only)
This mac-only entry is a fast, very simple piece of software made with the ebook self-publisher squarely in mind. Import any Microsoft Word file, and Vellum can streamline its conversion into a number of popular electronic book formats, with a modest amount of templates and typefaces. The print license version makes prepping a physical copy as straightforward as choosing a trim size. However, its image and rich media handling are limited.
Reedsy
Best for: Book formatting and layout
Platform: Web
Price: Free plus extra for collaboration
Reedsy's Book Editor is a one-stop shop for indie authors to compose, collaborate, and print their book projects. The word processing and layout tools are free and easy to pick up and use, but the real advantage of Reedsy is its built-in access to a network of freelance editors and designers for hire to help polish your work and get things across the finish line. Then, when your book is ready to go, you can export your project as an EPUB file or as a separate interior and cover PDFs to upload directly to Reedsy's recommended self-publishing printer: Blurb!
Scribus
Best for: budget-conscious authors, Linux users
Platform: Windows, macOS, Linux
Price: Free
Scribus began as a humble, free, Open Source page layout program and has evolved into a powerful, flexible tool that's great for book design. Like all of the best Open Source projects, Scribus benefits from being supported by contributors worldwide. It's not where you'll want to compose your manuscript, but it's great for getting it ready to publish, with easy layout and PDF creation and a great community for support. Seasoned pros take note: While Scribus' feature set is expanding daily, it still doesn't support Pantone color matching and can't read or write native QuarkXPress and InDesign files.
BookWright
Best for: Text-heavy work and easy publishing
Platforms: Windows, macOS
Price: Free
There's no easier way to get a text-heavy book project ready for printing with Blurb than Blurb's BookWright software. Select the book type you intend to print, and BookWright will serve up templates customized for your trim size and binding. Choose a template you love, then drop in your manuscript (plus any artwork and cover files), and you'll have a pixel-perfect, print-ready preview of your physical copy, as well as a digital ebook version. You'll even get the option to sell your title through the Blurb Bookstore, Amazon, and way more. 
***
Here at Blurb, we're all about making the joy of bookmaking more accessible to more creators. Whatever book design software you end up choosing to craft your masterpiece, we're here to answer your publishing questions and help you get your book out into the world.
Start designing your book with the free BookWright tool today.