For some self-published creators, publishing a book is about personal achievement and creative satisfaction. But for others, self-publishing a book is a matter of business.
If marketing, selling, and turning a profit from your book are your primary publishing goals, then you need to know how and where to sell your book. Fortunately, there's never been more bookstore platforms available for self-published creators.
However, with the increase in platforms and self-publishing creators, the market is also becoming increasingly saturated. According to WordsRated.com, the volume of self-published books has increased by 264% in the last five years. And 90% of self-published books sell less than 100 copies.
As a result, many creators need help to ensure their book is found and bought by interested readers. We're here to bridge the gap between self-publishing your book and later selling your book to your target audience. From marketing your book to knowing where to sell your book online, we'll explore how to earn a good income from self-publishing.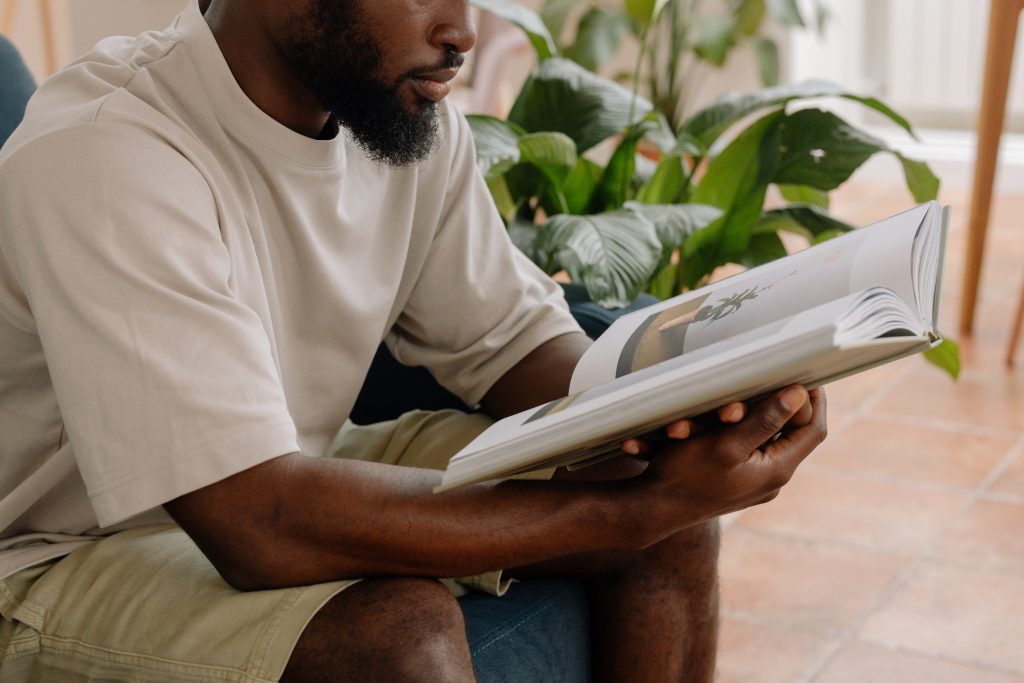 How to sell a self-published book
Before we delve too deep into where to sell your book, it's important to gut-check your ambitions and expectations of the entire process when learning how to self-publish a book and sell it.
A common mistake many creators make is doing a ton of work on the inside of a book while neglecting the external factors that dictate a book's success in the marketplace. Most creators can bring their book to life—crafting an engaging narrative, laying out their book to perfection, and editing away typos. But when it comes to researching the market and making a promotion plan, many struggle.
To help put the entire marketing process into perspective, here's a brief outline of how to sell a self-published book.
1. Define your target audience
You probably already have an idea of your target audience of readers. Still, it's a good marketing exercise to craft personas and determine the niche and interests of those most likely to buy your book. Pinpointing your target audience will help you position and prioritize your marketing efforts and reach the right people.
2. Write a compelling book blurb
A powerful marketing tool for your book is the blurb. Think of this as your book's sales pitch that dangles the carrot for prospective readers. It can make or break your book's selling power, so take the time to learn how to write a blurb for your book that wins the hearts of target readers.
3. Establish your marketing platforms
Build out your web presence, whether that involves social media, creating an author website, or establishing a profile on particular bookselling websites or forums. If you have the resources, start building an email list to give you a direct line of communication with prospective customers and loyal followers.
4. Leverage book marketing services
Unlike when celebrities work with a traditional publisher, self-published creators take ownership of book marketing and promotion. However, you can assemble your own team, as there are plenty of resources and book promotion services to help you reach a wider audience and increase your book's visibility.
5. Network with other self-publishers and industry professionals
Attend events, join creator groups, and participate in online communities to cultivate relationships and explore new opportunities to promote your book. Collaborating and networking with other self-published creators in your niche or industry can provide valuable exposure, support, and opportunities to reach new potential readers.
6. Offer special incentives and promotions
Get creative with your book launch marketing and offer giveaways, discounts, or other promotions to attract the attention of prospective readers, build hype, and drive more future book sales. Whether through your social media or leveraging the reach of other resources, special promotions can incentivize people to take action and purchase your book in pre-sales.
7. Ask colleagues to write your book forward
Reach out to notable creators, authority figures, or other individuals in your network and ask if they'd be willing to write a forward for your book. Not only can this provide valuable credibility and endorsement for your book, but if a popular figure writes your forward, it can help amplify your marketing efforts.
8. Request book reviews from your readers
Once you launch your book, encourage satisfied readers to leave reviews on Amazon, Goodreads, Barnes & Noble, or other platforms. Book reviews are proven to help increase a book's visibility and credibility. In addition, positive reviews can help build trust and improve your book's conversion rate. Just remember to follow the platform's rules—as platforms like Amazon will take down solicited reviews.
9. Utilize SEO and paid advertising
Undoubtedly, book search engine optimization (SEO) is vital to getting your book found in the search results of Amazon, Google, and other search engines. But in addition to organic marketing like SEO, consider running targeted advertisements to drive traffic to your book's sales page. Facebook, Instagram, Pinterest, Google, and Amazon are worthwhile ad platforms to explore.
10. Keep on promoting
Selling your book is a continuous effort that takes months (sometimes years) of ongoing effort. Stay diligent in promoting your book through multiple channels, like social media, email marketing, in-person signings, and leveraging new bookselling platforms to maintain top-of-mind visibility and continue to drive sales.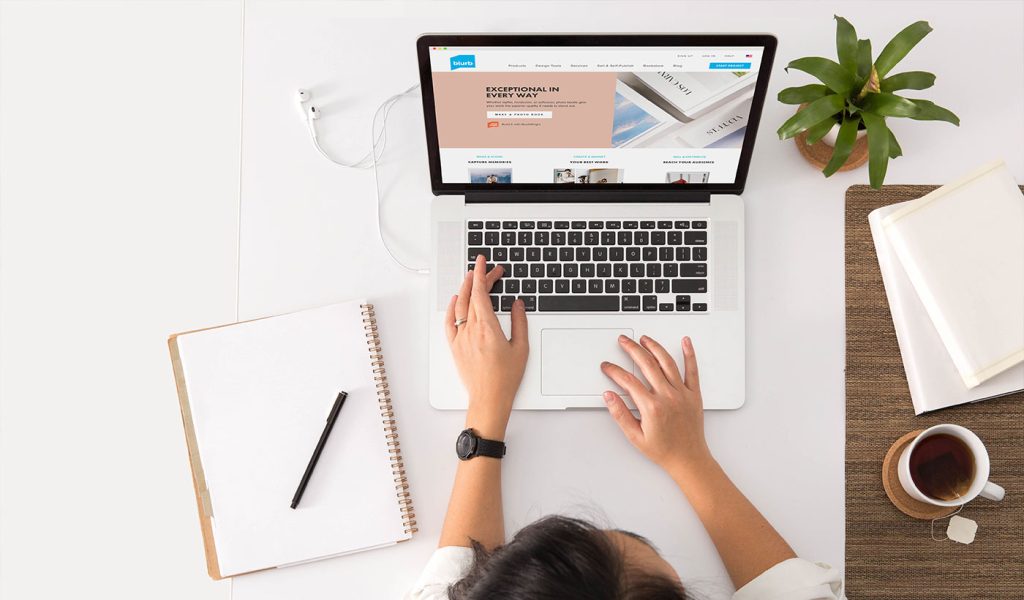 Where to sell books online
There are so many options for self-published creators looking to sell online. What's more, print-on-demand services have made it so easy (and cheap) for indie bookmakers to sell and distribute their books to a global market.
Depending on your book's format, genre, and audience, certain bookselling platforms make more sense than others. To help guide your efforts, here are some of the most popular places to sell books online.
Amazon
Amazon is the behemoth among bookselling platforms in terms of the sheer volume of inventory and traffic. This platform is ideal for self-published creators seeking the broadest possible reach, plus plenty of bells and whistles to help promote directly on the site.
With Amazon, you can sell your photo book or trade book by establishing a dedicated product page with your book's title, description, tags, and ISBN. To build rapport, you can also use an Amazon Author page with your book listings, blog posts, and profile information.
It's important to consider the cost of making your book and Amazon's fees when determining your list price. Amazon charges distribution fees per book sold and a percentage markup based on your book's list price. Add them to the cost of actually printing your book, and the costs can really add up. So while you can broaden your reach by selling your self-published book on Amazon, ensure these expenses don't hinder your book's overall profitability.
Ingram
Ingram allows self-published creators access to a worldwide distribution network of tens of thousands of retailers and libraries to sell their trade books. That means you can effortlessly distribute your trade book to over 39,000 retailers, libraries, distributors, and educational institutions in over 195 countries from a single spot. You'll definitely want to consider Ingram if you're aiming to access a large global market.
You'll decide your book's wholesale discount and list price through Ingram's Book Distribution network. This ultimately determines your book's profit margin. The only distribution cost is the wholesale discount you share with retailers. Just remember, the higher the discount, the greater potential your book has for visibility and increased sales.
Barnes & Noble
As the largest brick-and-mortar bookstore chain in the United States, Barnes & Noble allows self-published creators to distribute to their stores through the Ingram platform. That means you can upload and sell your ebooks and physical books on demand seamlessly. Barnes & Noble is an excellent option if you're looking to reach physical bookstores alongside ecommerce retailers.
Through Barnes & Noble and Ingram, you can customize your book's price and choose from various royalty rates. You can also take advantage of helpful book marketing and promotion tools, including a self-publisher dashboard and a personalized list of book recommendations.
Apple Books Store and Google Play Books
Apple offers a platform that allows creators to sell their self-published books through the Apple Books Store. The platform accepts ebooks in various formats and provides a simple process for uploading and selling books online. You can set your own prices and choose from different royalty rates. Apple also equips you with tools to promote your books and reach a wider audience.
Apple Books Store is perfect if you want a more straightforward selling process to target readers using Apple devices.
Google Play Book is very similar to Apple's bookstore. It's super easy to self-publish your book, choose your royalties, add metadata, and quickly get your book listed on Google. You can even set different prices in different regions of the world.
Blurb Bookstore
If you use Blurb to self-publish your book, then the Blurb Bookstore is a natural first place to start selling your book. While some platforms limit what types of books you can sell, Blurb's Bookstore allows authors to sell photo books, trade books, magazines, and PDFs.
Plus, Blurb doesn't charge distribution fees or commissions—something Amazon, Ingram, Barnes & Noble, Apple, and Google can't match. The Blurb Bookstore is ideal for true indie creators who want to self-publish and print on demand without profit-destroying fees.
You take complete control over your book's price by adjusting your profit margins, but Blurb also provides distribution services to help list your books on other platforms beyond the Blurb Bookstore. This includes distributing your book on Amazon and in over 39,000 stores with Ingram's global network.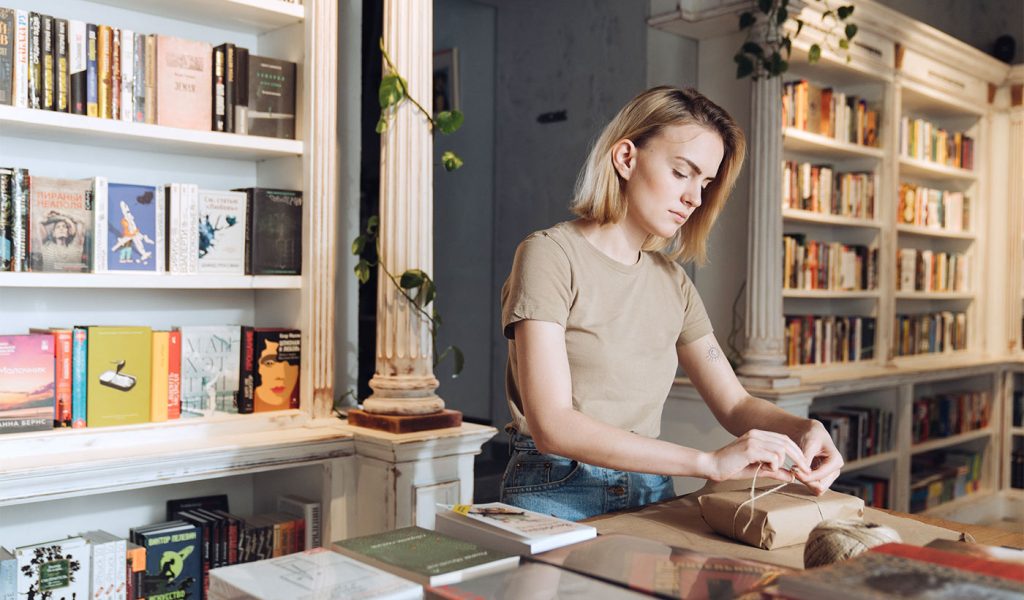 Where to sell books in person
Although selling your book online casts the widest net to attract potential customers, you can balance your marketing mix with brick-and-mortar retailers. For self-published bookmakers in large metropolitan areas, selling in person provides significant opportunities.
Need some thought-starters for locales you should approach to sell your book? There are our top picks:
Independent bookstores
Typically t locally owned and operated small businesses, independent bookstores often have stronger ties to their local community and are far more willing to sell books published by local authors. When you approach indie bookstores, offer to do readings or signings to up your exposure!
Local libraries
Some libraries feature dedicated sections for local authors. While not all libraries are big revenue drivers for book sales, they can offer great exposure and visibility to make your book known.
Major bookstore chain
Large retail bookstore chains like Barnes & Noble and Books-A-Million can be powerful places to get shelf space for your book. But convincing these chains to carry your book may take the right strategy and approach. Do your research on how the chain you're targeting makes decisions. And be sure you have your distribution channels set up to deliver to your chain.
Used bookstores
Small boutique stores specializing in buying and selling used books are sometimes open to selling new books, including those by local authors. If you've already created a pitch or sell sheet when approaching independent bookstores, libraries, or chains—there's no reason not to approach used retailers too.
Specialty shops
Depending on your book's topic, certain specialty shops may be willing to carry it on their shelves. Examples include gift shops, tourist shops, toy stores, craft stores, food co-ops, and yoga studios. Again, it's all about making the right pitch for the shop's audience.
Book clubs
Certain book clubs and author events are great opportunities to sell books in person and connect with potential readers and creators in your local community.
Flea markets, farmers markets, street fairs, and other events
Plenty of events and markets offer ways to sell your book in person. Events specific to your target audience, like farmer's markets for a farm-to-table recipe book, provide the most fruitful opportunities. (Pun intended.)
Selling your book in person can be a great strategy to reach local customers and promote your work. Still, it's essential to choose your channels wisely and check with each location for specific policies and procedures for selling books.
What to consider when marketing and pricing your book
When marketing and pricing your self-published book, both online and in person, it's essential to consider a variety of factors, from your audience (notice a trend?) to your marketing budget. Let's dive into the details.
Target audience
Who are you writing the book for, how much value does your book offer, and what price are they willing to pay? Consider factors like demographics, interests, income, and education level of your audience. This will help you not only set your book's list price but also help you figure out where to market your book. Millennial moms looking for parenting books might be hanging out in Facebook groups, while Gen Z photographers looking for coffee table books might be more likely to be on TikTok.
Similar or competing books
Look at related books already on the market, how they're priced, and what strategies the creator used to position and market them. Deciding your book's differentiators from other similar books is extremely valuable as you decide how to price and sell your own.
Format, length, and content
The format of your book (zine, hardcover, softcover), the length of your book, and the depth of its content will directly influence the price and go-to-market strategy. In short, longer and more in-depth books may justify a higher price than shorter or digital books. Be sure to be realistic about how much your audience is willing to pay rather than how much time and energy you've put in.
Your brand and reputation
There's a reason why some creators can charge 40 to 50 dollars for a copy of their book. If their reputation is strong and the perceived value of their work is high, then the price can be reflected as such. Consider limited editions, signed copies, and quality materials if you want to sell at a top-tier list price. However, if you're just starting as a creator and self-publisher, it could be worth listing your book at a lower price to build trust and credibility.
Production costs
The costs associated with self-publishing your book, including the editing, formatting, designing, printing, and distribution, should be considered when determining your book's price. We'll always recommend a second set of eyes and printing a proof copy. However, if it's your first time self-publishing you might consider professional help with one or all of the above.
Distribution strategy
Where will your book be sold? Different means of distribution, such as Amazon, in-person channels, or your personal website, can include different pricing structures and fees. You should consider if you'll print on demand or offset, as your costs and shipping capabilities will differ wildly.
Marketing budget
How much money are you willing to spend promoting your book? And what marketing and advertising platforms are you planning to use? Answers to these questions can determine the sales number you need to hit to break even.
Ultimately, picking the right price for your self-published book requires careful consideration of these factors and a good grasp of your goals and the market. Test and adjust your pricing strategy as needed to ensure the best possible return on your investment.
Blurb to sell your self-published book
If you're in the early stages of planning your book project, Blurb is a great place to get the ball rolling. Blurb offers the creative tools to design, format, and assemble your book exactly how you envision it. Once built, you can self-publish and print your book with on-demand printing and sell your book at scale through the Blurb Bookstore, on Amazon, and through Ingram's worldwide distribution network of over 39,000 stores.
Learn more about how to sell your self-published book with Blurb.